Traeger Apple Crisp Cinnamon Roll Cups
4 min read
Fire up the grill and make your family a treat for breakfast with these Traeger Apple Crisp Cinnamon Roll Cups! This is a simple recipe that uses refrigerated cinnamon rolls, so you won't have to waste away your entire morning whipping these up.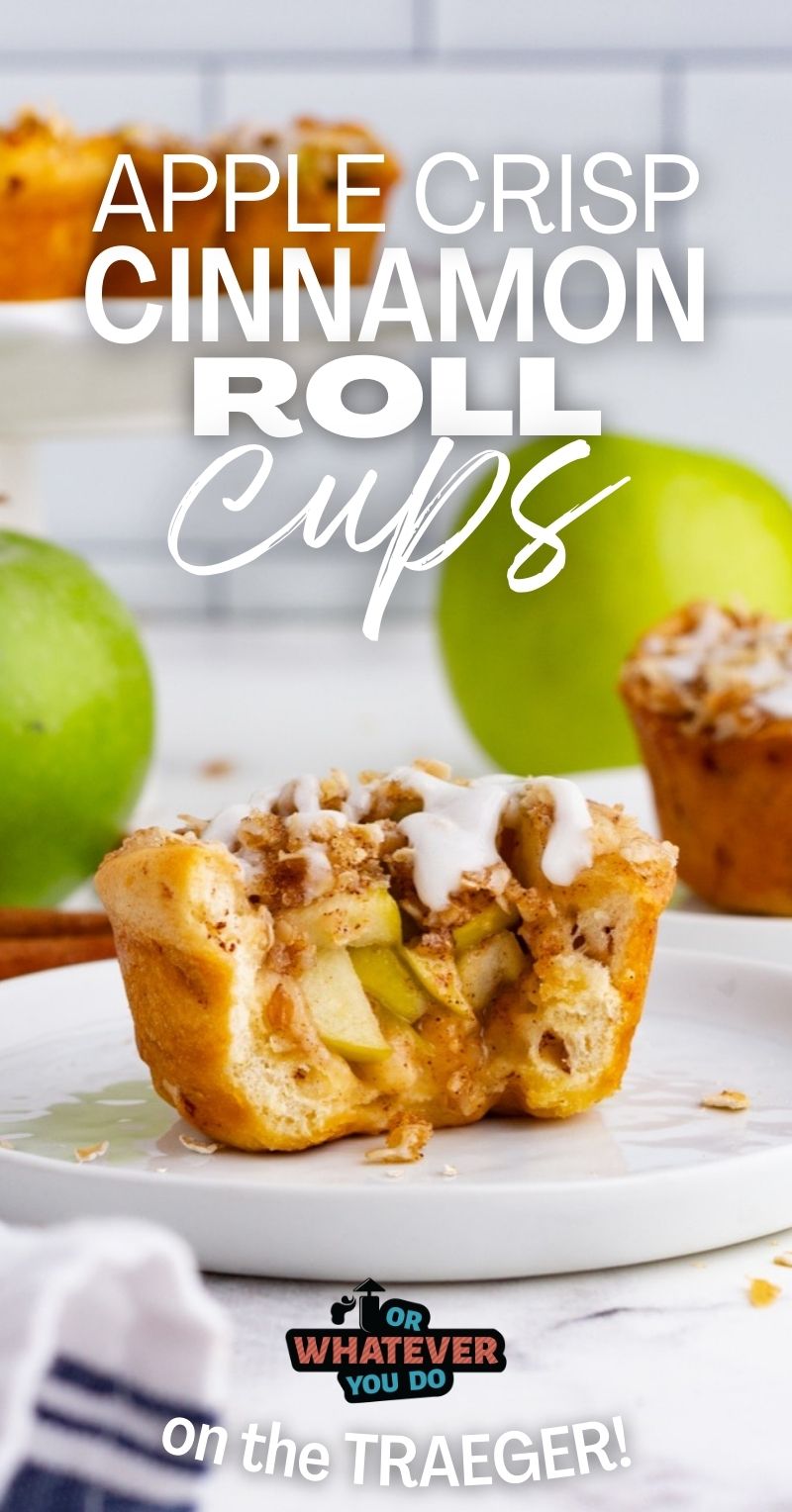 Apple Crisp Cinnamon Roll Cups
When you want a special kind of treat for breakfast, but also like to sleep past 6 AM, sometimes it can feel like you are relegated to grocery store donuts or something frozen. This quick and easy recipe starts out by using a tube of refrigerated cinnamon rolls for the base, and transforms them into little muffin-sized cups to load the apples and crisp topping into. What you end up with is a bit like a deep dish apple crisp pie, complete with the cinnamon roll drizzle on top.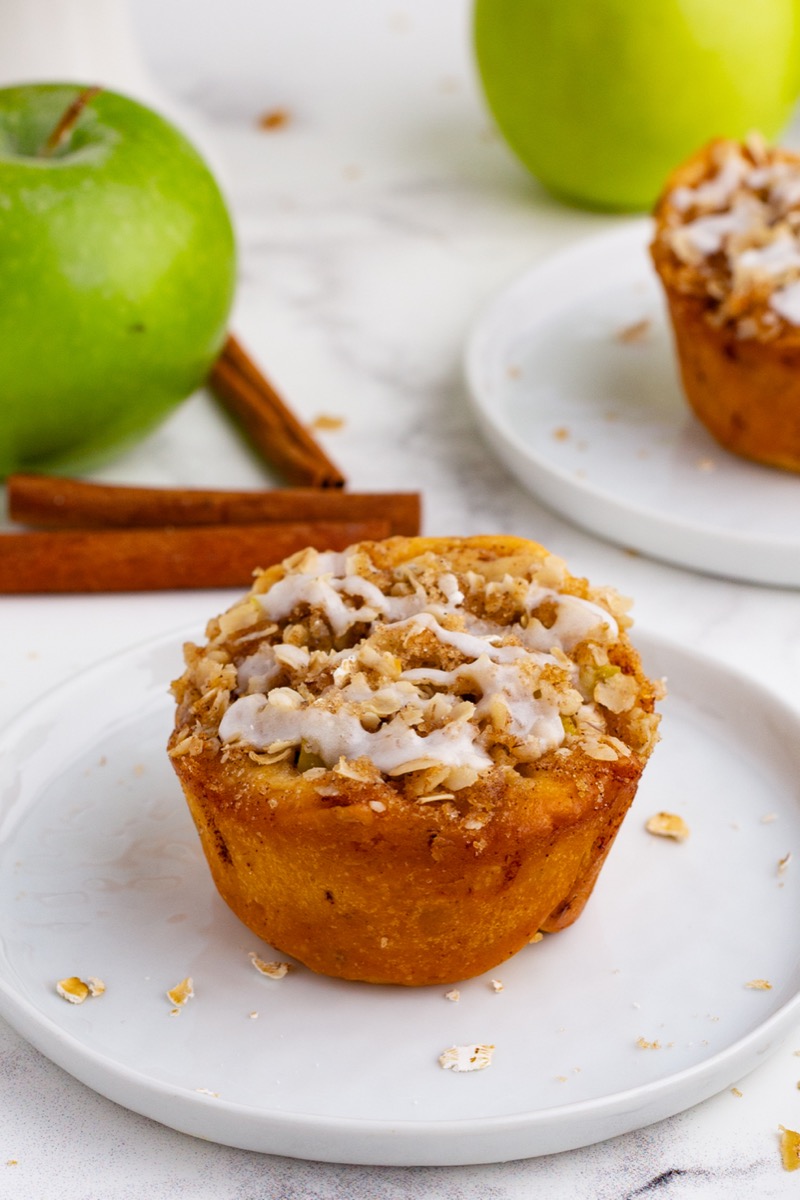 Apple Crisp Cinnamon Roll Cups shopping list
Wondering if you have to hit the store? Here's the list of items you'll need to make this recipe. For specific amounts, please refer to the printable recipe card at the bottom of the post.
refrigerated cinnamon rolls (regular size)
apples
butter
quick rolled oats
brown sugar
cinnamon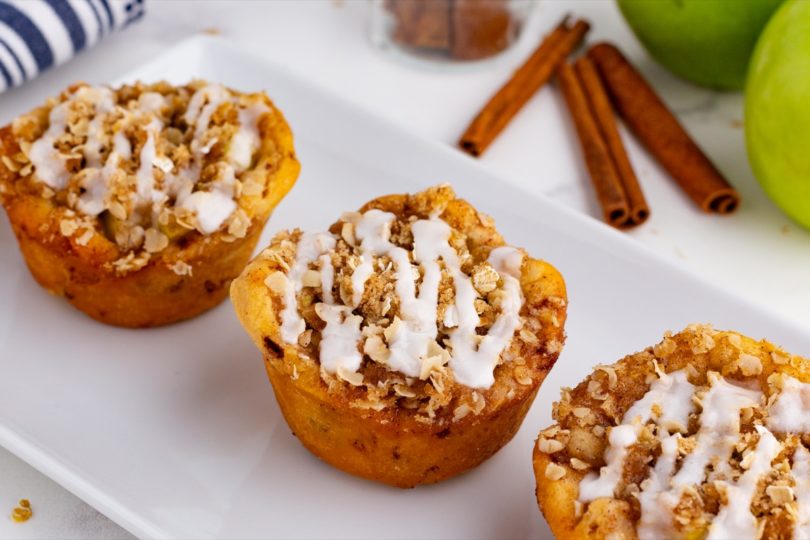 How to make Apple Crisp Cinnamon Roll Cups
This is just the overview so you can see what you're actually getting into here. When you are cooking, you'll want to use the full recipe at the bottom of the page.
Preheat
We're shooting for around 375° here. Also, put a cookie rack or an inverted rectangular cake pan in the grill to create some more space between the heat at where you're muffin tins will be.
Also prep your muffin tins with baking spray.
Roll 'em
Roll out your individual cinnamon rolls until they are about 5″ across and will cover a muffin tin to form a cup. Repeat, and place each one in the muffin cups.
Fill 'em
Make the apple mixture and spoon into the cups. Then make the crisp mixture and spoon over the apples.
Bake
"Bake" your muffin cups in the Traeger for 15-20 minutes.
Drizzle Drizzle
Remove when done and let cool for 10 minutes before drizzling the topping over each of the muffin cups.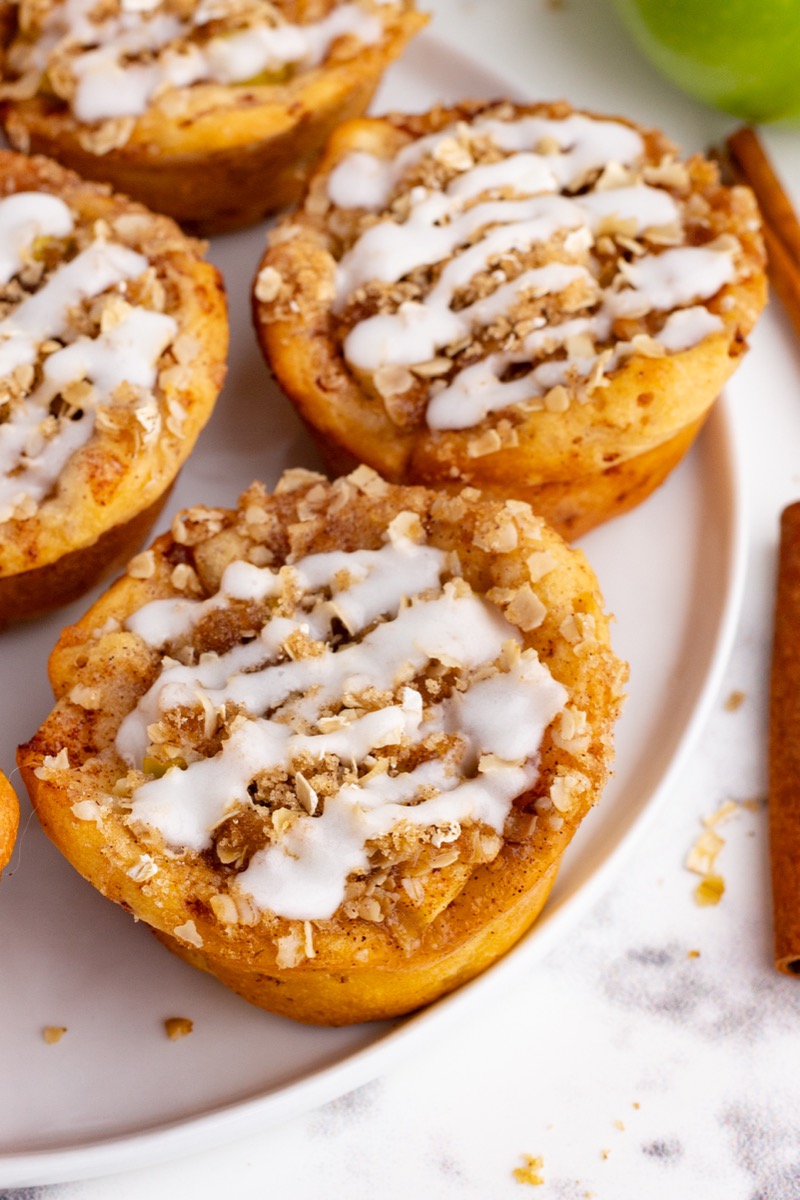 Apple Crisp Cinnamon Roll Cups FAQ
How do you store leftovers?
Store these covered in the fridge for 2-3 days.
What's the best way to reheat?
Reheat these in the oven, warm grill, or in the microwave.
Are there any substitutions for the canned dough?
Yup! You can also use refrigerated sugar cookie dough or regular bread dough sprinkled with cinnamon and brown sugar. Just make sure to bake it until the crust is fully cooked, whatever you use.
More great breakfasts to enjoy!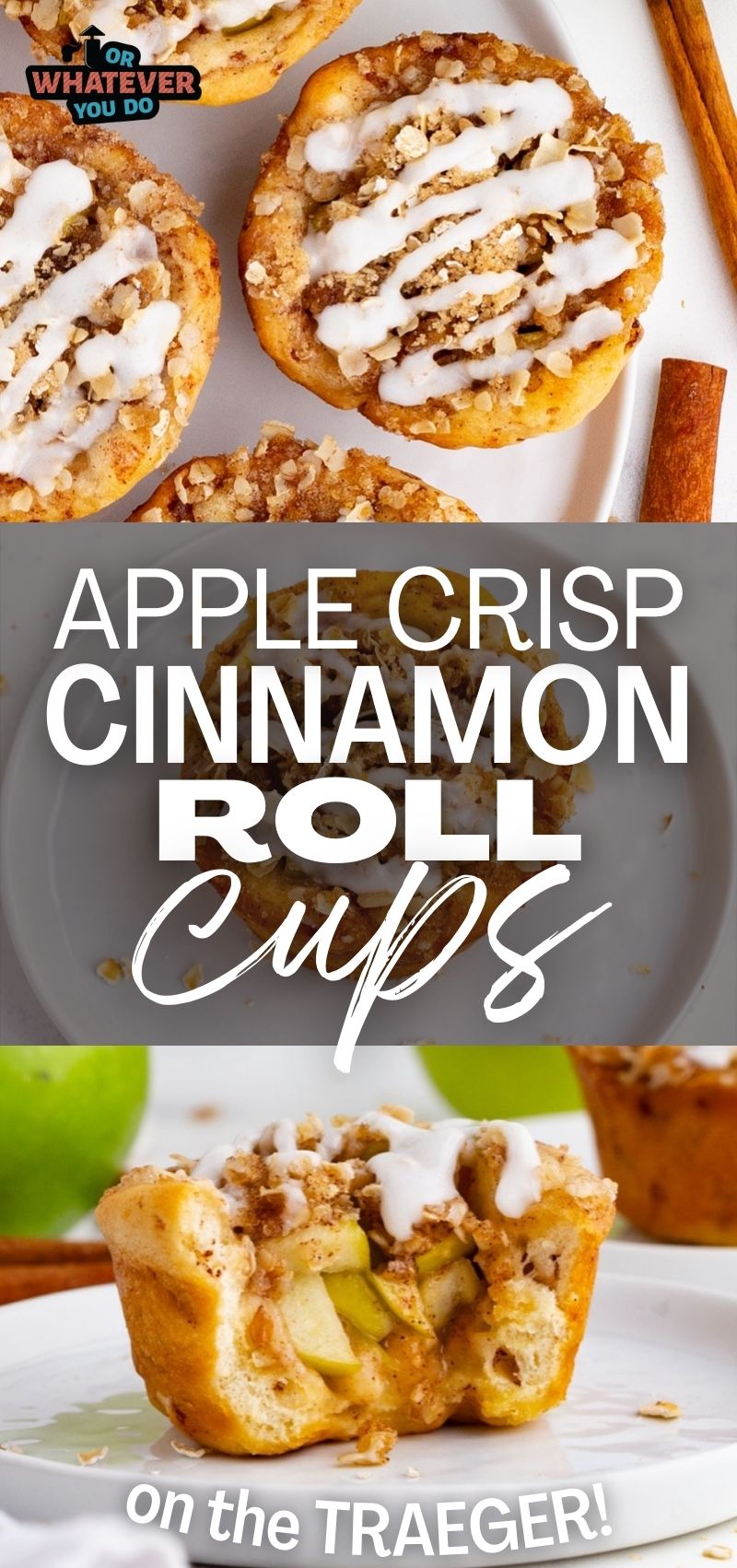 Prep Time
15 minutes
Cook Time
20 minutes
Total Time
35 minutes
Ingredients
2 (12.5oz) Pillsbury Cinnamon Rolls (regular size)
3-4 large apples, cut in small dices
1 cup stick butter, melted
3⁄4 cup rolled oats (quick 1 minute)
1⁄2 cup brown sugar
1 tsp cinnamon
Instructions
Preheat your Traeger to 375°.
Prep your muffin pans with non-stick baking spray.
Flatten each individual cinnamon roll with a rolling pin until it is about 5″ across and big enough to cover all the sides of your muffin cup when pressed in.
Press each rolled out cinnamon roll into the muffin tins to form a cup.
In a large mixing bowl, stir together the apples and melted butter.
Scoop about 1 to 1 1⁄2 tablespoons of apple mixture into each muffin tin. Make sure you don't overfill!
In another bowl, mix together the oats, brown sugar, and cinnamon. Stir until everything is evenly incorporated.
Sprinkle 1 tablespoon of the oat mixture on top of each of the cups.
Place a large inverted rectangular cake pan into your Traeger. A wire baking rack will also work. We're creating some additional elevation in the grill so the bottoms of your cups don't burn. You're looking for about 2-3 inches additional space.
Place the muffin pan(s) on top of the baking rack or inverted cake pans. "Bake" in your Traeger for 15-20 minutes.
Remove from the grill and let cook for 10 minutes.
Drizzle with icing that comes with the cinnamon rolls.
Enjoy!
Recommended Products
As an Amazon Associate and member of other affiliate programs, I earn from qualifying purchases.
Nutrition Information:
Yield:
16
Serving Size:
1
Amount Per Serving:
Calories: 185Total Fat: 12gSaturated Fat: 8gTrans Fat: 1gUnsaturated Fat: 4gCholesterol: 31mgSodium: 137mgCarbohydrates: 19gFiber: 2gSugar: 13gProtein: 1g
Nutrition data provided here is only an estimate.