Panera Greek Salad and Dressing
5 min read
Panera Greek Salad with homemade salad dressing is a delicious meal to enjoy for lunch or dinner. There's no need to go to Panera Bread when this DIY salad is so much better and less expensive.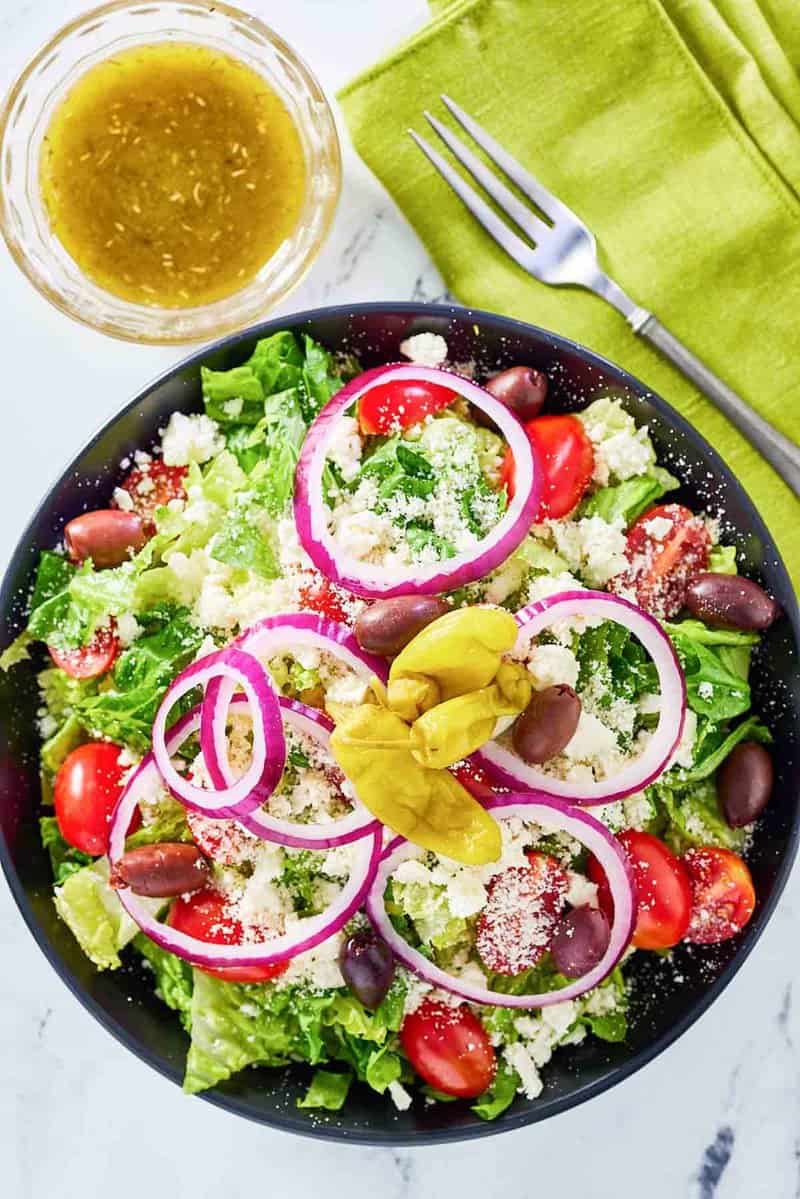 This post contains affiliate links. As an Amazon Associate, I earn from qualifying purchases.
What Makes the Panera Greek Salad the Perfect Greek Salad? 
Greek salads are tasty and satisfying with salty feta, tangy tomatoes, acid purple onions, and fruity kalamata olives over a bed of dressed lettuce. A large Greek salad can make a wonderful main course, while a smaller portion is a versatile side salad.
The version of Greek salad that Panera Bread serves adds pepperoncini and parmesan cheese for an even more complex flavor. 
Why Should You Make This Recipe at Home
A good Greek salad is all about the freshness of the ingredients. Use garden-picked or direct-from-the-farmers'-market veggies for the best flavor. And when it comes to taste, you can't beat homemade Dijon vinaigrette dressing!
But perhaps the biggest advantage of making a Greek salad at home, besides saving money, is the opportunity to add your own twist. Check out the section below on recipe variations for a few suggestions. 
Copycat Panera Greek Salad Recipe Ingredients
To make Panera Greek Salad dressing, you'll need:
Apple cider vinegar
Extra virgin olive oil 
Dijon mustard 
Fresh lemon juice
Dried oregano
Dried thyme 
Dried basil 
Minced garlic or garlic granules 
Ground black pepper 
Salt 
For the rest of the salad, you'll need:
Romaine lettuce
Grape tomatoes
Feta cheese, cubed 
Parmesan cheese, grated
Red onion, thinly sliced
Kalamata olives
Whole pepperoncini peppers
Salt
Fresh ground black pepper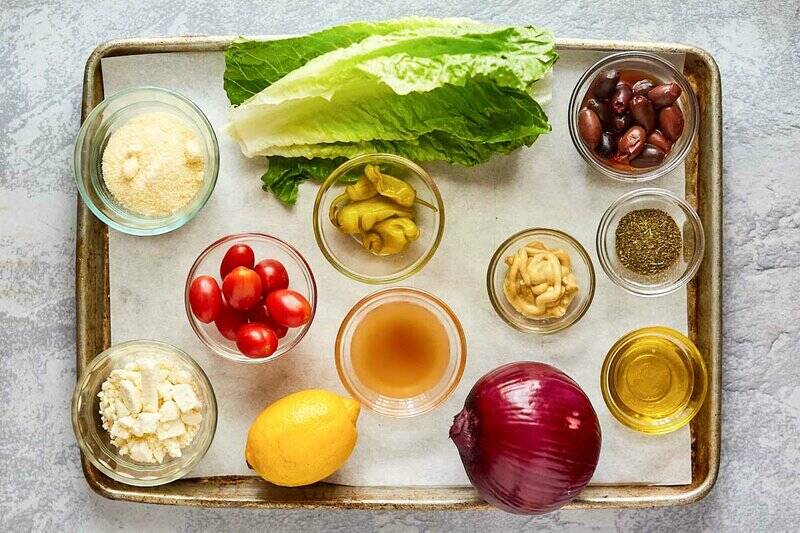 Ingredient Notes
Producers make feta cheese from sheep milk or a combination of sheep and goat milk. Its crumbly texture and salty, slight tangy lemony flavor makes it ideal for sprinkling on just about anything.
There are several types of feta but look for one that is made in the Greek style and comes in a single block submerged in the brine. To get rid of some saltiness, you can give the feta a quick rinse before using it.
Kalamata olives are originally from the sun-drenched Peloponnese peninsula in Greece and represent Greek cooking. They have a naturally pronounced fruity flavor with a bit of bitterness, and the brining solution gives these olives their tang. A Greek salad is just not the same without these little beauties.  
Pepperoncini are small yellow-green pickled peppers with just a little heat but full-sized flavor. You should be able to buy pepperoncini in most supermarkets, but banana peppers are a good substitute if you have problems finding them.
How To Make Panera Greek Salad
To prepare the Greek dressing:
Combine all the ingredients for the Panera Bread Greek Salad dressing recipe in a bowl.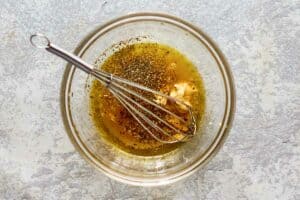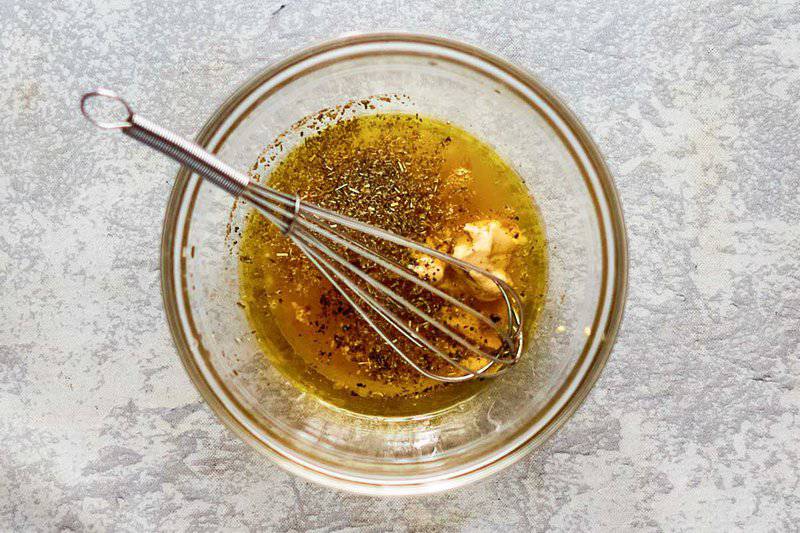 Use a whisk to combine.
Cover the bowl with plastic wrap and put it in the fridge.
The flavor of this dressing is the best when it is at room temperature, so plan accordingly. 
To finish assembling the Panera Bread Copycat Greek Salad recipe:
Rinse and dry the romaine lettuce. Slice into one-inch strips.
Toss the romaine lettuce with salt, pepper, and two tablespoons of the homemade salad dressing. Transfer the dressed lettuce into a large bowl for serving.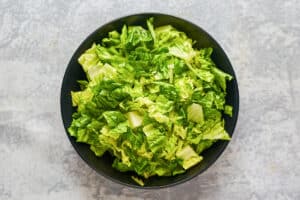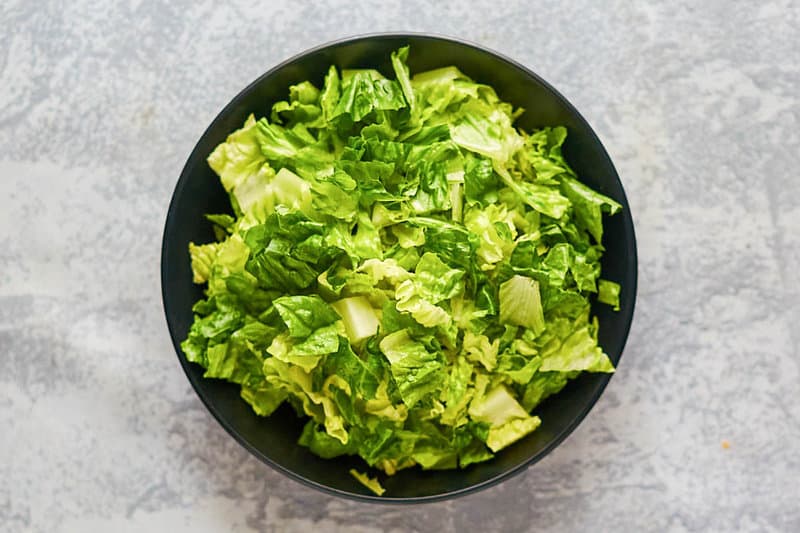 Slice the grape tomatoes in half and scatter them on top of the lettuce.
Place the kalamata olives, Greek pepperoncini, and slices of onions in the serving bowl.
Crumble the feta cheese over the other ingredients and sprinkle on the parmesan cheese.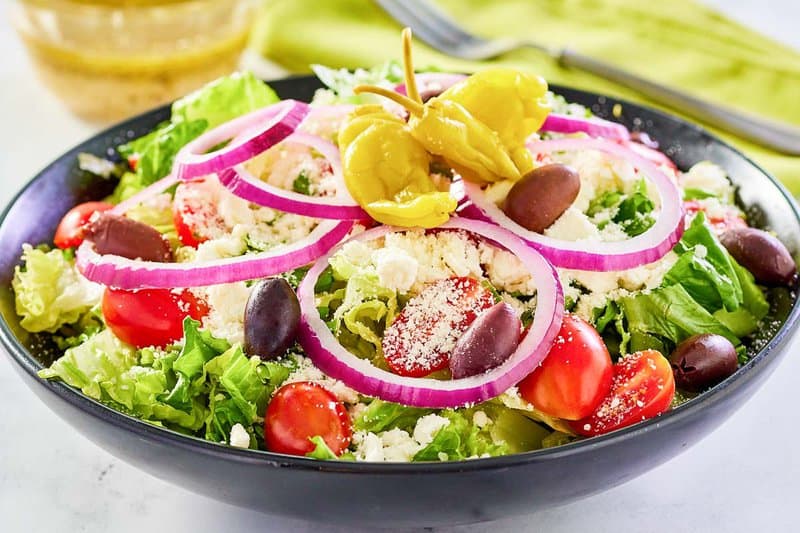 What To Serve With It 
Serve a few slices of focaccia or olive along with a large Greek salad. A Greek salad also pairs well with any grilled beef or chicken dish.
How To Make One Ahead of Time and To Serve It Later 
The salad dressing will last for up to five days in the fridge. 
If you are packing the Greek salad to go, keep the dressing on the side to prevent the lettuce from getting soggy. 
Possible Recipe Variations
Try experimenting with different add-ins. Here are a few suggestions:
Modern Greek Salad Bowl: Grain bowls are taking over, and it is easy to turn this basic recipe into a filling meal by adding a layer of warm quinoa to the bottom of the serving bowl and topping with a half portion of salad. You may want to add a few shaved almonds, a scoop of hummus, and extra dressing. 
Add meat or fish. Ordering a Panera Greek Salad with chicken is popular at the restaurant, but there is no reason why you can't add thinly sliced beef or even roasted salmon for extra protein.
Love Panera? Try These Copycat Recipes
And there are even more Panera Salads copycat recipes.
Favorite Salad Recipes
Check out more of my delicious and easy salad recipes and the best copycat Panera recipes on CopyKat!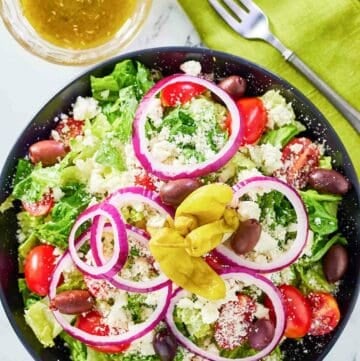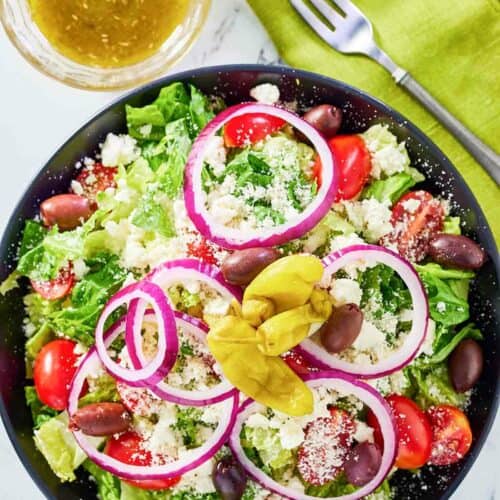 Panera Greek Salad
You can make Panera Bread Greek Salad at home with this easy copycat recipe.
Print
Pin
Rate
Add to Collection Go to Collections
Servings: 1
Calories: 677kcal
Ingredients
Greek Dressing
⅓

cup

apple cider vinegar

½

cup

extra virgin olive oil

½

teaspoon

Dijon mustard

2½

teaspoons

fresh lemon juice

½

teaspoon

dried oregano

¼

teaspoon

dried thyme

¼

teaspoon

dried basil

¼

teaspoon

minced garlic

or garlic granules

¼

teaspoon

ground black pepper

½

teaspoon

salt
Salad
4 to 5

cups

sliced romaine lettuce

2

tablespoons

grape tomatoes

halved lengthwise

1½

tablespoons

crumbled feta cheese

1

tablespoon

grated Parmesan cheese

3 to 4

thin slices

red onion

cut into rings

8

black Kalamata olives

3

pepperoncini

salt and black pepper

to taste
Instructions
Dressing
Combine all of the dressing ingredients in a small bowl and whisk together well.

If you do not use all of it right away, store the remainder in a sealed container in the fridge.
Notes
You can make the salad dressing up to 5 days in advance. Keep it in an airtight container in the fridge. Take it out about an hour before and shake or whisk to re-combine.
Nutrition
Calories: 677kcal | Carbohydrates: 15g | Protein: 9g | Fat: 67g | Saturated Fat: 12g | Polyunsaturated Fat: 7g | Monounsaturated Fat: 45g | Cholesterol: 27mg | Sodium: 1140mg | Potassium: 721mg | Fiber: 7g | Sugar: 5g | Vitamin A: 17010IU | Vitamin C: 40mg | Calcium: 274mg | Iron: 3mg